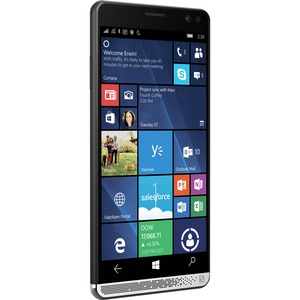 HP Elite x3 64 GB Smartphone - 4G - 6" Super AMOLED 1440 x 2560 WQHD Touchscreen - Qualcomm Snapdragon 820 Quad-core (4 Core) 2.15 GHz - 4 GB RAM - 16 Megapixel Rear/8 Megapixel Front - Windows 10 - SIM-free - Graphite - Bar - 2 SIM Support - Nano SIM - 256 GB microSD, microSDXC Support - GPS Receiver - Bluetooth 4.1 - IEEE 802.11a/b/g/n/ac - Near Field Communication - USB 3.1


BRAND NEW - FULL WARRANTY
antonline is an authorized HP partner.
FREE SHIPPING Processing & packing takes 1 Business day prior to ship.
The one device that's every device.

HP Elite x3, a pioneer in the 3-in-1 category, combines PC power and productivity, tablet portability, and smartphone connectivity in a sleek and secure device that can dock with your screens and keyboards when you need to work big.

A revolution in mobility

Work in ways you've never been able to before. For the first time, the Elite x3 puts the power of a PC in the palm of your hand.

Truly seamless

Effortlessly switch between a handheld phablet and a desktop PC or laptop experience when you dock to a larger display.
The Elite x3 is the first built-for-business mobile device to deliver seamless phablet, laptop and desktop business productivity in a single device.

You've got this

Be productive on all your screens with Windows 10 Mobile, which has business-grade security, a customized app store and requires virtually no learning curve for Windows 7 and XP users.

Complete the package

HP Elite x3 Lap Dock is designed as an ultra-slim, near borderless 12.5" diagonal display notebook form factor that connects with the HP Elite x3 to achieve a seamless Windows Continuum computing experience.

Secure at every step

Lock down access to your device and data with integrated security measures built into the hardware and operating system.

Access your corporate apps on the go

Designed by HP to enable a new level of business mobility, HP Workspace lets you run your most frequently-used Windows and corporate applications virtually.

A stellar experience

The HP Elite x3 has all the best features you expect in a mobile device, including a long-life battery, wireless charging, a brilliant, indoor/outdoor, edge-to-edge HD display, premium audio by B&O PLAY, and two high-resolution cameras.

Ultimate performance

Designed to support a range of speed, efficiency, power, and connectivity, the HP Elite x3 is equipped with a high-performance Qualcomm® Snapdragon™ 820 processor that will deliver an excellent user experience and a long-lasting battery life.

Built for business

The HP Elite x3 features a 5.96" WQHD AMOLED multi-touch display with scratch-resistant Corning® Gorilla® Glass. It is dust and water resistant and designed to pass MIL-STD 810G testing.




Manufacturer HP Inc. Manufacturer Part Number X5V47AA#ABA Brand Name HP Product Line Elite x3 Product Name Elite x3 Smartphone Product Type Smartphone Technical InformationPhone StyleBarMessaging TypeSMS (Short Message Service),MMS (Multi-media Messaging Service),Email,Instant MessagingSensor TypeAccelerometer,Proximity Sensor,Gyro Sensor VideoIntegrated TV TunerNoMaximum Video Resolution1920 x 1080 AudioRadio TunerNo Processor & ChipsetProcessor ManufacturerQualcommProcessor TypeSnapdragon 820Processor Speed2.15 GHzProcessor CoreQuad-core (4 Core) MemoryBuilt-in Memory64 GBStandard Memory4 GBMemory Card SlotYesMemory Card SupportedmicroSD,microSDXCMaximum Memory Card Size Supported256 GB Display & GraphicsScreen Size6"Screen TypeSuper AMOLEDScreen ModeWQHDScreen Resolution1440 x 2560Pixel Density494 ppi Touchscreen InformationTouchscreenYesTouchscreen TypeCapacitiveMulti-touch ScreenYes CameraRear Camera Resolution16 MegapixelFront CameraYesFront Camera Resolution8 MegapixelBuilt-in FlashYes Input DevicesInput MethodTouchscreen SoftwareOperating SystemWindows Phone (WP)Operating System VersionWindows 10 Network & CommunicationContract TypeSIM-freeMulti-SIM SupportedYesNumber of SIM Card Supported2SIM Size SupportedNanoCellular Network SupportedGSM 850,GSM 900,GSM 1800,GSM 1900,WCDMA 850,WCDMA 900,WCDMA 1900,WCDMA 2100Cellular Generation4GCellular Data Connectivity TechnologyLTE,GPRS,EDGE,HSPA,HSDPAGPS ReceiverYesBluetoothYesBluetooth StandardBluetooth 4.1Wireless LANYesWireless LAN StandardIEEE 802.11a/b/g/n/acNear Field CommunicationYes Interfaces/PortsUSBYesUSB StandardUSB 3.1 Battery InformationRemovable BatteryYesBattery Capacity4150 mAh Physical CharacteristicsColorGraphiteHeight6.4"Width3.3"Depth0.3"Weight (Approximate)6.88 oz
Please understand , this is only one of over 100,000 products offered for sale by antonline and shipped from our many different automated warehouses. There are no local stores or pick up. All the product information we have is provided by the manufacturer and in the item listing. Manufacturers change colors and item details frequently and often do not update pictures. We have no personal knowledge or experience with this product or ability to customize it. All items ship as addressed in an automated warehouse. The time to process and ship is listed prominently in each listing. It usually takes about a week to get your item. It may be faster or longer as shown in the listing or if credit check or special handling is required. There is no human intervention in the process. That is how we control costs and keep prices are so low. Paypal requires that we only ship to the verified Paypal address provided with the order. NO ADDRESS CHANGE IS POSSIBLE.




Atlanta Network Technologies, Inc.





We accept payment by: Paypal.




Shipping to: United States

Excludes: Alaska/Hawaii, APO/FPO, US Protectorates, PO Box.





Antonline eBay Return Policy

Returning an item purchased from antonline is easy and fully automated with our "Hassle Free Return Program".
Please use the automated link below or email us for and RMA link. You can obtain a return label from us or use your own to return an unwanted product during the return window. Full return terms and conditions are listed below.
http://www.antonline.com/request_rma.php

Item Return Criteria

All returns must include the following:

Original packaging (manufacturer's box, Styrofoam, plastic bags, etc.)
Original intact UPC barcode. Do not cut out the UPC code until you have examined and tested the product to your satisfaction. Removal of the UPC code voids any possibility of return regardless of RMA or credit request status.

Original packing slip. Do not mail or dispose of the packing slip until you have examined and tested the product to your satisfaction.

The return must be complete and include all accessories, Manufacturer documentation (manuals, warranty cards, registration information, etc.)

(If you think you may have received the wrong or a potentially defective product, you can also request an RMA, return and we will refund in full if the item is determined to be incorrect (not matching the order placed online) or defective upon return inspection.
Please note that antonline does not cross-ship any items, even if you feel you may have ordered incorrectly or received the wrong product.

Basic Return Policy

Unless otherwise stated in this specific policy - below - you have 30 days from the date of your delivery to request a valid RMA from our website, then 5 business days from approval to return the item and post tracking (Drop off the package at the post office or schedule a pickup with the US Postal Service or ship to the returns warehouse via Fedex or UPS).

If you are ineligible for an RMA, contact the manufacturer directly or check any applicable warranty you might have for other potential return opportunities. Note that we have no control over the manufacturer or other entities related to your product, and cannot guarantee their return policies. See the Manufacturer Contact List at the bottom of this page.

Except as provided for verified defective products (See Special Returns Policy for Defective Products below), you will be responsible for all shipping charges for returns sent to our Returns Warehouse.

Upon our acceptance of the merchandise in new condition and in strict conformance with the basic criteria and basic returns policy listed above, the purchase price will be credited to the purchaser for the original purchase.

Many of the items we sell have Special Return Policies. See the appropriate policy below to see if items you purchase are affected.

The risk of loss for the product being returned shall be with you at all times during the shipment of such product to the returns center and with respect to any shipments from the returns center back to you, the original distributor or manufacturer, or any buyer through the liquidation process. Title to the product being returned will remain with you at all times and transfer from you to the original distributor, or a third party in the case of a liquidation of the return, only upon receipt of the products by such distributors or buyers.

Potentially Defective Products

All Potentially Defective Product claims should be sent directly to the manufacturer or warranty provider for evaluation and warranty support. Refer to the products' individual warranty policy for further information. See the Manufacturer's Contact List at the bottom of this page.

Please note that 99% of initially diagnosed "Potentially Defective Products" turn out to be configuration or compatibility issues and are not "Defective Products".

Non-Returnable Products

The following products are not accepted for return once opened and used. Customers must direct repair or replacement inquiries to the manufacturers' authorized service centers for these products: personal hygiene products that have risk of disease transmission if resold; consumables, TVs and monitors, computer components, laser printers, scanners, fax and other devices with delicate optics. To locate a service center near you, please refer to your product manual. Unused software may be returned, if unopened, with some exceptions. Defective software, games, CDs and DVDs may be returned for the same title only. Software programs, consumables and media are not returnable to antonline under any circumstance and must be returned to the manufacturer. Stereo and electronic equipment should be bench-tested prior to installation (units that have been installed, scratched, or abused will not be accepted for return or credit). Bulk Purchases (10 + items) are not eligible for return. Returned products are subject to shipping and restocking charges, or refund rejection as listed below.

RMA Fee Schedule for Returned Items

Products returned to antonline in resalable as new condition are subject to a 20% restock fee + shipping costs. Products returned Used, Opened in user damaged condition or without all packaging and item materials and manuals that cannot be resold as new or open box are refused and returned to customer. If a customer refuses delivery of returned item, the item is disposed of by the shipping carrier, but the customer is still charged for that item and will not be entitled to a refund.


International Orders are not eligible for return.